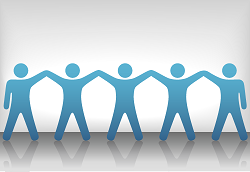 Aphasia centers are designed to enhance quality of life by creating a community of people who are all living with aphasia. Typically, they offer conversation groups, classes, technology training,  treatment, social activities, and/or community outreach. But beyond the specific services, they provide an environment in which language problems are taken for granted and it is understood that aphasia is a disorder of language, not of intelligence.
This post provides some links to help you learn more about aphasia centers, and perhaps find one for yourself. Please contact us if you can suggest additional centers to add to our list, which is currently limited to North America and primarily the US.
A good overview of aphasia centers, by Roberta Elman:
http://aphasiacorner.com/blog/experts-talk/a-brief-history-of-aphasia-centers-1227
The National Aphasia Association provides a large listing of aphasia centers and community groups:
http://www.aphasia.org/aphasia_community/aphasia_community_groups.html
Some specific aphasia centers are listed below (in alphabetical order).
Adler Aphasia Center
60 West Hunter Avenue
Maywood, NJ 07607
Website: www.adleraphasiacenter.org
Phone: 201-368-8585
Aphasia Center of California
200 Grand Ave
Oakland, CA 94610
Website: aphasiacenter.net
Phone:(510) 336-0112
Aphasia Center of West Texas, Inc.
5214 Thomason Drive
Midland, TX 79703
Website: www.aphasiawtx.org
Phone: (432) 699-1261
Aphasia Community Friendship Center
P.O. Box 426
Saline, MI 48176-1269
Website: www.aphasiacentermi.org
Phone: (734) 429.5679
Aphasia Institute
73 Scarsdale Road
Toronto, ON  M3B 2R2
Canada
Website: www.aphasia.ca
Phone: 416-226-3636
Carondelet Aphasia Program
Carondelet St Joseph's Hospital
Rehabilitation Services
350 N Wilmot Rd
Tucson, AZ 85711
(520) 873-5847
Email: fhirsch@carondelet.org
Houston Aphasia Recovery Center
3701 Briarpark Drive, Suite 310
Houston, Texas 77042
Website: www.harctx.org
Phone: 713-781-7100
MossRehab Aphasia Center
60 Township Line Road
Elkins Park, PA 19027
Website: http://www.mrri.org/focus-areas/mossrehab-aphasia-center
Phone: 1-800-225-5667
Snyder Center for Aphasia Life Enhancement (SCALE)
5910 York Road
Baltimore, Maryland 21212
Website: www.scalebaltimore.org/
Phone: 410.323.1777
The Stroke Comeback Center
145 Park Street, S.E.
Vienna,VA 22180
Website: info@strokecomebackcenter.org
Phone: 703-255-5221
Triangle Aphasia Project, Unlimited
191 High House Road
Cary, NC 27511
Website: www.aphasiaproject.org
Phone: 919-650-3854
University of British Columbia School of Audiology and Speech Sciences Aphasia Mentoring Project
Vancouver, BC
Website: http://blogs.ubc.ca/aphasiaprogram/
Finally…the organization below is not an aphasia center, but offers online treatment and social groups:
AphasiaToolbox.com
800 Vinial Street, B408
Pittsburgh, PA 15212
Website: www.aphasiatoolbox.com
Phone: 724-494-2534