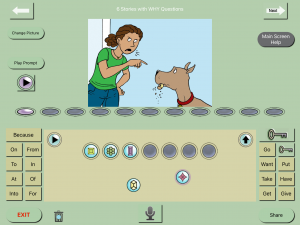 SentenceShaper is a program to help you create sentences in your own voice. You record short sound bites by clicking the Record Button at the bottom of the screen (see screenshot). Each recording is linked to a crystal icon that replays the recording when it is clicked. You arrange these crystal icons into sentences by dragging them to the Sentence Row (middle row in screen shot). Finally, the sentence icons can be  added to the Story Row (top row in screen shot) to create full messages.
For language therapy:
A set of built-in workbooks helps users practice sentence structures ranging from simple to complex, using the support that SentenceShaper provides for creating spoken sentences. There are also workbooks to elicit speech on different topics such as family, likes and dislikes, memories, and advice. Or users can insert their own photos and create speech on any topic of personal interest. Creating open-ended productions like this can can be an especially beneficial language exercise.
The program includes customization tools allowing the clinician to create workbooks that implement specific language therapies … the advantage of doing so is to let SentenceShaper help the user construct appropriate responses. For example, the iPad version includes a version of the VNeST protocol (Emonds).
For life participation:
The program can turn your recordings into videos to share with others. You can insert personal photos into SentenceShaper) and even add text captions.
The resulting .mp4 video file can be mailed to others from within the program. In the iOS version, the Share Menu offers even more ways to share your video. For users with intelligibility issues, the text captions are especially useful, since they make it easier for listeners to understand the recorded speech.
Summary of program features:
— Sentence-building tool, to create sentences from speech fragments
— Built-in workbooks
— Ability to insert your own personal photographs
— Sharing tool: turns your recorded speech and photos into a video, and lets you share it from within the program
— Text area to add your own text, in any language (note: only the iPad version supports all writing systems)
— Editing tool to create personalized materials
— Export/import feature to share treatment materials you create.
The idea behind SentenceShaper:
There's a lot of evidence that people with aphasia still know their language. Unfortunately, however, their language processing is slowed down – it takes them longer to think of words, and words vanish from memory before they can be combined into sentences.
SentenceShaper can help you tap into these hidden language abilities. How? By letting you hold words and phrases in memory long enough to combine them into sentences. Once you record a word, you will not have to keep it in memory — just click its icon and it will be played back.
Also, when speaking is effortful, it's hard to do what is called "self-monitoring"–that is, to listen to what you are actually saying. SentenceShaper lets you play back your speech at all levels: single words, sentences, and messages. This can help you to correct errors, and may also help you to think of ways to expand or improve your utterance.
For people whose speech is hard to understand because of dysarthria, apraxia, or fluent aphasia, hearing their utterances played back can be very helpful and can help them find effective strategies for creating more intelligible speech.
And, for all users, the ability to create a recording containing their very best efforts can be satisfying and empowering.
Research about SentenceShaper:
Research studies (click here) have demonstrated that SentenceShaper can help people with aphasia to create better speech, and that this effect may carry over into spontaneous speech.
Thus the program can be used as a communication aid, a therapy tool, or both. Both these functions are supported by a host of additional program features.